SHEBOYGAN — If you're looking for a unique spin on an afternoon in Sheboygan, look no further than Shebikin' and Sheboatin' tours.
Whether you're visiting Sheboygan for the first time and looking to sightsee and experience all the area has to offer or you're a Sheboyganite through and through looking for fun night out with family or friends, this is a fun way to liven up any day.
Shebikin' pedal tours
Shebikin' is a motor-less, pedal-powered trolly for up to 15 people—and yes, it's BYOB. The trolly comes equipped with 10 seats with pedals but also two seats without pedals and a bench seat in the back for those not looking to work for their drinks.
Guests are permitted to bring their own beer or wine coolers, but hard liquor is not allowed. The limit of alcohol on board is 36 ounces per person, and riders must show ID to drink.
Tours begin at NZ's Bar and Grill at 1022 Michigan Avenue in Sheboygan and travel through the main streets of Sheboygan including 8th Street and Michigan Avenue, both of which are jam packed with local bars.
If you're looking for more of a scenic tour, Shebikin' can also take groups along the lakefront and riverfront to enjoy some of Sheboygan's iconic landmarks.
Shebikin' hosts private groups and special events but also offers Mix N' Meet events for people who want to give it a try but don't have enough guests to fill a tour.
Pricing and bookings are available at shebikin.com:
Private group party — Book the entire party bike for two hours for $380. Groups of up to 15 can be accommodated. 
Mix N' Meet — Book anywhere from 1-15 seats on a two-hour tour for $35.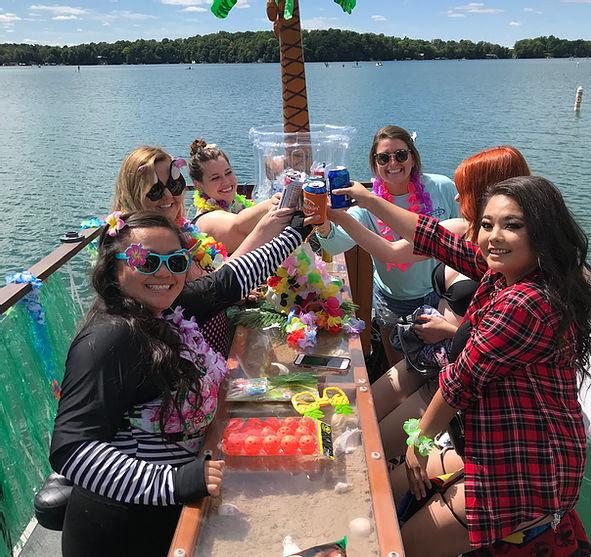 Sheboatin'
Looking to take advantage of the area's greatest natural beauty? Take to the water with Sheboatin', a pedal-powered lake cruiser for up to 10 people on Elkhart Lake.
BYOB is also permitted, but no hard liquor or glass is allowed. Guests are able to bring their own coolers and food on board.
Tours begin with pickup at Osthoff Resort near Lake Deck Bar at 101 Osthoff Avenue where they will continue on onto Elkhart Lake.
Sheboatin' also offers private parties and smaller group options. Pricing and bookings are available at sheboatin.com:
Private group party — Book the entire boat for two hours for $380. Groups of up to 10 can be accommodated.
Mix N' Meet — Individual seats can be purchased for $45 each, but a minimum of 6 people are required