Just because the holiday season has come and gone doesn't mean the most wonderful time of the year has departed – especially in Wisconsin! The Ice Castles are back in Lake Geneva for another season of frozen fun for the whole family. Check it out!
Ready, Set, Get Excited!
This winter's Ice Castles, which take about two months to design and construct, will be bigger and better than ever before with a new layout and different backdrops. Seasoned pros of the Ice Castles will find that this year's castle, at an acre in size, is almost double the size of last year's structure!
Standing at approximately 15 to 20 feet tall when completed, guests of all ages can explore the castle's beautiful spaces, ice slides, tunnels, crevices, and crawl spaces to their heart's content. It's impossible to leave this towering, frozen palace unimpressed!
When Should I Visit?
Recent mild weather in Wisconsin has us anxiously anticipating the opening of the Ice Castles. But good things come to those who wait, because when the attraction is ready for visitors in late January, you'll likely have until early March to make the trek to Southern Wisconsin.
If you want to experience winter at its finest in Lake Geneva, consider a visit between January 29 and February 2, when you can also catch Winterfest and the US National Snow Sculpting Championship. Winterfest, which features a variety of family-friendly events around town, runs simultaneously to the Snow Sculpting Championship, where teams of the country's most talented snow sculptors compete for the national title. See incredible works of ice up close and personal, then vote for your favorite to win the People's Choice award!
To Get That Perfect Photo…
Book your visit around sunset: This way, you can experience the castle during both daylight and evening hours. Drones and tripods have to stay home, but linger until the sky is darkest to capture the castles illuminated by color-changing lights.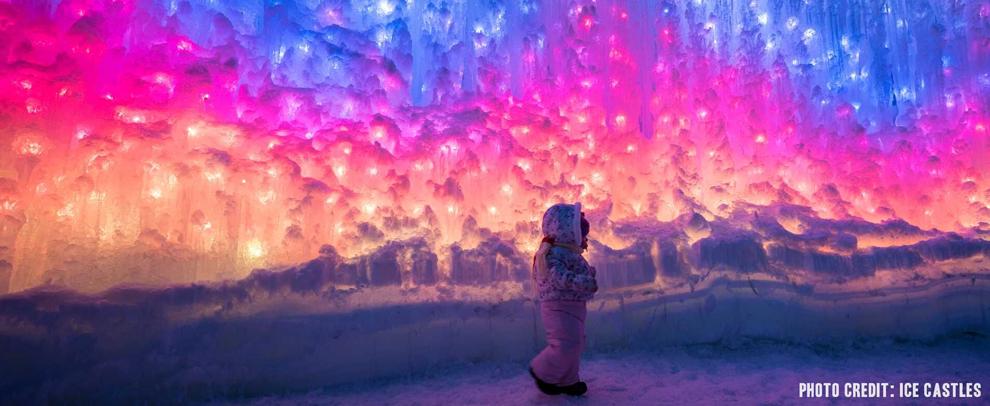 Know Before You Go
Before packing up for a road trip, know that Ice Castles are a weather-dependent attraction. If temperatures are extremely cold or unseasonably warm, the experience will temporarily close. But don't worry—if you purchased tickets in advance, they will be honored another day.
You'll find convenient parking at the Geneva National Resort's Clubhouse. If you're visiting with children, note that strollers aren't permitted inside…but you know what are? Sleds! Families often pile little ones in a sled for easy (and winter-appropriate) transport around the castles.