WISCONSIN — These days, tiny cabins are all the rage. They can be urban, rural, or mobile; and make for a unique and fun lodging experience for the sustainable and casual traveler alike. They sure look cute and cozy – but are they worth checking out?
We think yes. Along with the state's rich history of B&B's and camping, tiny cabins fit perfectly into Wisconsin's culture of natural exploration, genuine hospitality, and trying new things. Whether you're looking for a place to lay your weary head after a day in the woods or a relaxing getaway that you can truly curl up in, these tiny cabins are the perfect temporary home.
Justin Trails B&B Resort – Sparta
Justin Trails offers lodging options for any level of traveler on the outdoorsy to indoorsy spectrum. For curious tiny cabin seekers, we suggest the "Little House on the Prairie." This small Scandinavian Full Scribe log cabin is part Laura Ingalls Wilder, part modern getaway. You have a gas fireplace, a whirlpool tub, a deck to sit out on, access to 200 acres of land, and four-course breakfasts served every morning.
Thorpe House Inn and Cottages – Fish Creek
One of the cottages at the Historic Thorpe House Inn, the #1 Finch is a 365 square-foot gem equipped with two rooms, each with a full bed. Lovely enough to have been decorated by your grandmother, this small cottage is old-fashioned and cozy with all of the amenities of your apartment. Door County has a lot to explore. Keep your living space tight, but tightly comfortable: wi-fi, a coffee maker, a flat screen, and a little brick patio all come with your stay.
Wildman Adventure Resort – Athelstane
Experience the beauty of the Northwoods in a tiny cabin at Wildman Adventure Resort. Tucked among the trees you'll find a handful of rustic, wooden cabins, each with a small front porch and bunk beds that sleep up to five.
The cabins themselves are relatively bare-boned, and for good reason – here, the emphasis is on what fun awaits outside your cabin door. Step out and discover an outdoor playground packed with endless activities to up your adrenaline – everything from ziplining, whitewater rafting and rock climbing, to paintball, high ropes courses and more.
Mulroy's Irish Acres – New London
Irish Acres invites you to relax and enjoy their beautiful family farm, where spots for hiking, fishing, and quiet meditation are only steps away. Their rustic Fairy Cabin offers a log cabin stay fit for one to four people and provides opportunities for arts and crafts, farming classes, felted soap-making lessons, and more. Enjoy the cabin, retreat to a picturesque landscape, and learn some new skills.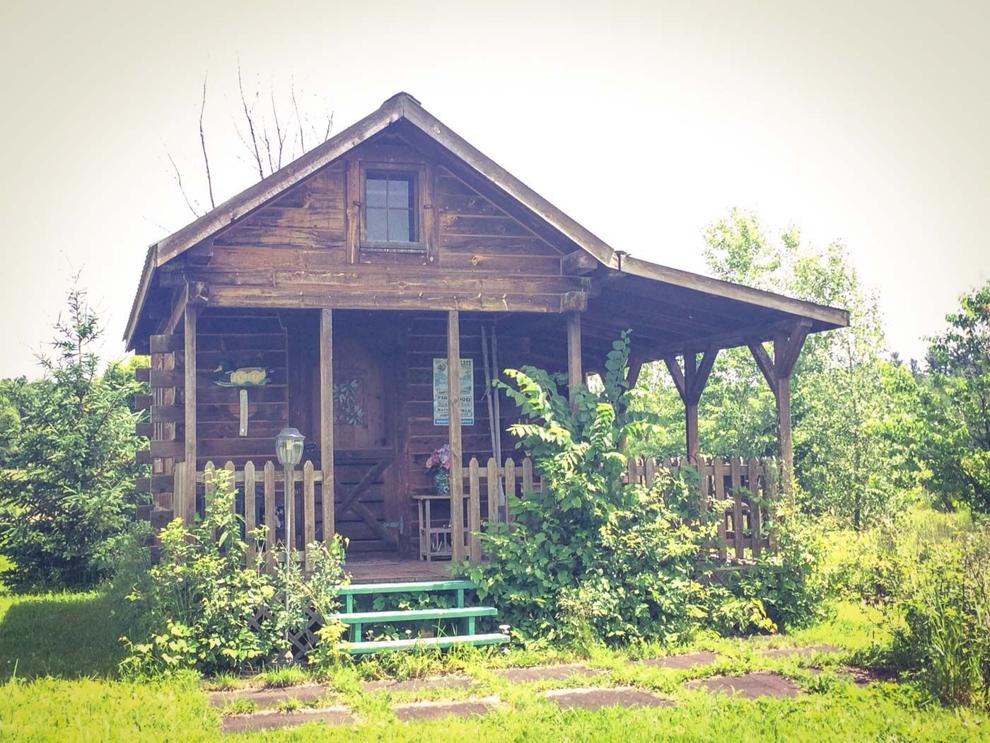 Canoe Bay – Chetek
For a tiny cabin experience that doesn't skip on luxury, check out the Escape Tiny Houses at Canoe Bay. These cozy cabins are built for relaxation, and feature top-notch amenities like a fireplace, wet bar, and breakfast delivered right to your cabin door. Lounge with a book on the screened-in front porch and enjoy charming views of the lake below.