SHEBOYGAN — At Tuesday's board of education committee meeting, everyone agreed that there is no right or wrong way to handle the current situation when it comes to if students can safely be in the classroom.
After announcing that the district would continue virtual learning through Nov. 27, superintendent Seth Harvatine addressed one of the most common questions he keeps getting: 
Why keep pushing the return date out two weeks instead of looking further out?
"We don't have that crystal ball that tells us what it's going to look like, but we're putting out those metrics and if we can come back, I'd rather come back as soon as we can as opposed to picking a date way in the future and then saying 'Well, we're not there yet, so we'll just wait until we get there,'" he said in the board meeting. "That is definitely a question that comes up, and I understand fully the difficulties. It weights heavily on me .. We do understand the stress that that places on our community but frankly that data indicates that things are getting worse in our community, not better."
Despite being in remote learning since Friday, Oct. 16, the district continues to see climbing positive cases in students and stuff.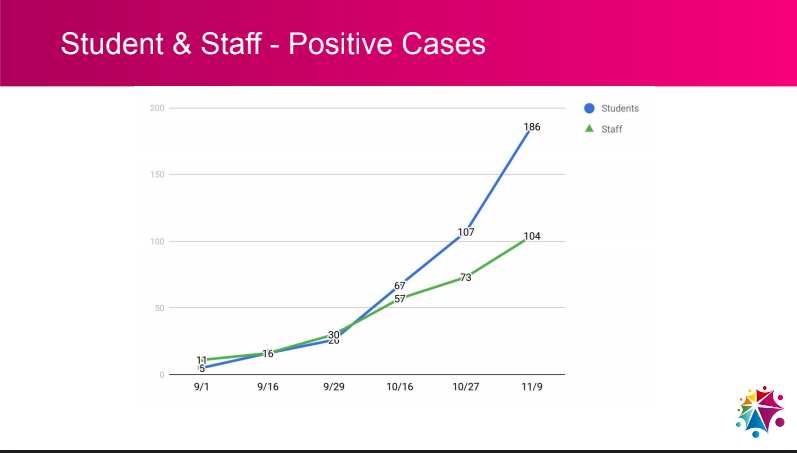 "What continues to be a concern for us is our staff," Harvatine explained in the meeting. "Our staff continues to have struggles continuous, especially in the two specific areas of facility maintenance and that custodial group and our food service. We've had several staff had to be out so we're very limited. We do have staff in our building and teachers who are able to work from their classrooms."
Additionally, as the Sheboygan County Division of Public Health has already also admitted to, keeping up with contact tracing as active cases continue to rise is one of the biggest struggles.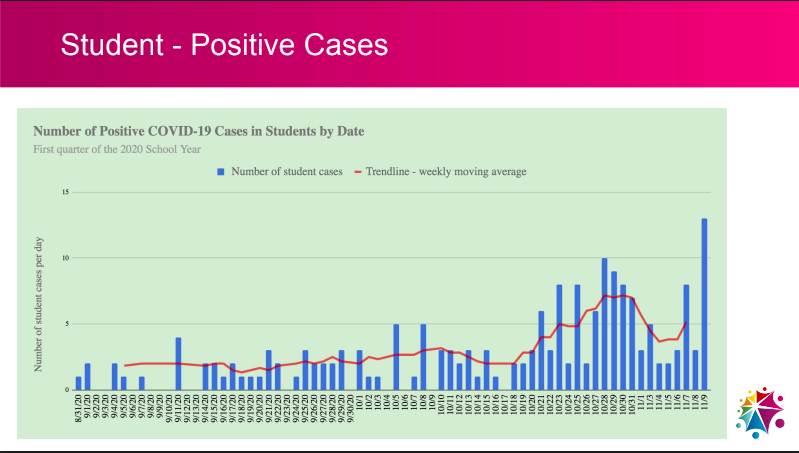 "You might say 'Well that still only under 15 cases,' but in some cases that's 30 to 50 people of contact tracing for each case, and quite honestly, we were pulled really thin when we were doing five to 10 cases a day, let alone up to 10 and over," Harvatine explained.
Metrics used to determine the continuation of keeping students virtual according to the district:
Sheboygan County Activity Rate - Burden Rate and Trajectory
Case activity is a combination of burden rate and trajectory over a 14 day period
Goal: 350 cases or less per 100,000 people
Current: 'Very High' - 1,471.4 per 100,000 people
State of Minnesota Metric - Burden Rate
Goal: Burden rate less than 50 cases per 10,000 residents over a 14 day period
Current: 147.1 per 10,000 people
Harvard/Brown Metric - 7-day Average of New Cases
Goal: 7-day average of new cases in our community at 25 or less new cases daily
Current: 107.9 per 100,000
Children's Hospital of Philadelphia - Positivity Rate
Goal: Stable or declining positivity rate over a 14-day period
Current: Trend is upward, with 14-day trailing average of 20.1%