SHEBOYGAN — It somehow seems both forever ago and like yesterday that the Sheboygan Area School district announced on Oct. 13 that it would be moving to an all-virtual learning model.
Since then, students have tallied 24 school days outside of the classroom. When Tuesday night's extension expires, students will have been in virtual learning for a total of 53 school days.
Since closing schools, total confirmed positive cases has increased from 89 district-wide on Oct. 9 to 413 as of Nov. 20.
Much has happened in the last month, so here is a timeline of events to review, step-by-step, the decisions made by the district:
Sept. 20 — SASD confirms first positive case of COVID-19 at Grant Elementary
Oct. 8  — Jackson Elementary becomes the first building to transition to virtual learning
Oct. 10 — Early Learning Center transitions to virtual learning 
Oct. 11 — Pigeon River transitions to virtual learning
Oct. 12 — Etude Elementary transitions to virtual learning 
Oct. 13 — SASD transitions all schools to online learning beginning Oct. 20 through Oct. 30
Student positive cases as of 10/9: 56
Staff positive cases as of 10/9: 33
Oct. 28 — SASD extends virtual learning through Nov. 13
Student positive cases as of 10/23: 95
Staff positive cases as of 10/23: 65
Nov. 10 — SASD extends virtual learning through Thanksgiving break (Nov. 24)
Student positive cases as of 11/6: 172
Staff positive cases as of 11/6: 88
Nov. 24 — SASD extends virtual learning through the end of the semester (Jan. 21)
Student positive cases as of 11/20: 290
Staff positive cases as of 11/20: 123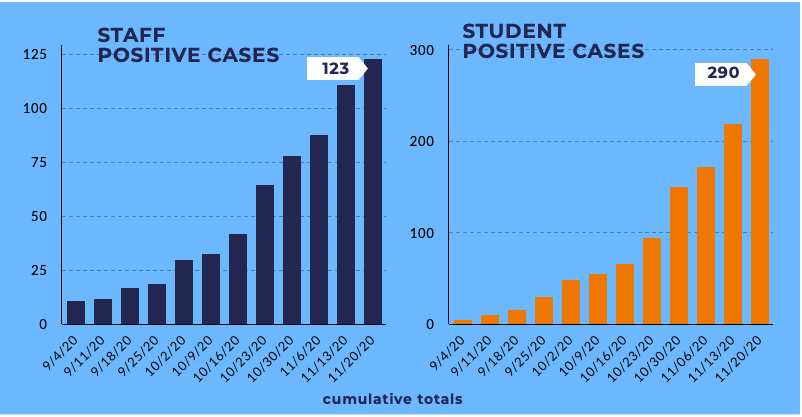 For context on the district's decision in real-time, here are some other important dates to know:
Oct. 7 — Sheboygan tops New York Times COVID-19 watch list 
Oct. 8 — Gov. Tony Evers limits public gatherings to 25% 
Oct. 9 — Wisconsin creates field hospital for overflow COVID-19 patients
Oct. 19 — Sheboygan hospitals announce that only 2 ICU beds are available at the moment
Nov. 10 — Sheboygan County tallies 10 deaths due to COVID-19 overnight
Nov. 10 — Sheboygan Falls middle school moves to all-virtual learning model (Set to return Nov. 18)
Nov. 12 — Random Lake School District goes virtual through Thanksgiving Break (Resume Nov. 30)
Nov. 13 — Howards Grove School District goes virtual through Thanksgiving Break (Resume Nov. 30)
Nov. 18 — Gov. Tony Evers extends the Wisconsin mask mandate into January
Nov. 18 — Sheboygan Falls School District goes virtual through Dec. 3