SHEBOYGAN —The last time the Sheboygan North Raiders football team saw the field was October of 2019. The team went on to finish 1-8.
But with an extended layoff due to the pandemic and a very talented incoming group, the Raiders are more excited than possibly ever to return to the gridiron.
"We've been building a program here for really the last four years," explained head coach Joseph O'Brien. "Before I was here, there was a lot of inconsistency in areas of the football program as a whole, but I'm signed on for the long term. I'm here to stay, and I'm excited about that.
"We've really been working on building that foundation of a program and we feel really good about where we're at right now," he added. "Our JV2 program went 8-1 last season, so we've had some of that lower-level success. Those guys are now all growing up and getting bigger and several of them will be starting this Friday night for us as sophomores on the varsity team."
North football varsity and JV practice gallery
With this year's season getting postponed just before it was slated to start, the Raiders have continued that enthusiasm and work ethic all throughout the past several months culminating to Friday night's 2021 spring season opening at Green Bay East.
"It certainly is an interesting thing having football in the spring, but the overall mood of the team is that we're super excited," O'Brien said. "Guys have been working out really dating back to after the 2019 season. We were able to start practicing with contact days in late January/early February, and we've had 40 to 50 guys consistently showing up to workouts ready to get after it."
Adding to the uniqueness of the 2021 season, both Sheboygan North and South will be playing in a temporary grouping for the modified season. The Fox River Classic Conference, Fox Valley Association and Wisconsin Valley Conference combined to form a 20-team group called the Fox Valley Classic Football Conference.
North has been placed into Group D with South, Green Bay East and West and Oshkosh North.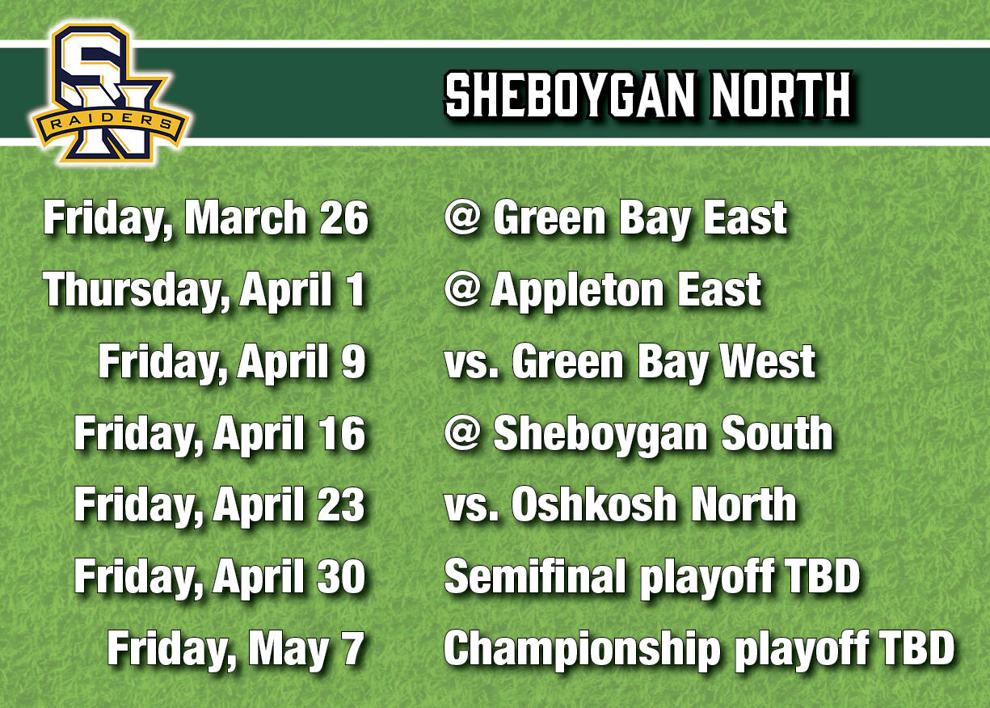 [Read about the formation of the conference and see the groupings and full schedule here]
Luckily, the Raiders do have some exposure to its new opponents for the 2021 season.
"We ended up being really fortunate," O'Brien said. "Green Bay East and West, although we haven't played in several years, they were in our old conference and will be coming back to our new conference, so they'll be on our schedule for the fall '21 season.
"Oshkosh North is also a team that we've scrimmaged several times since I've been here, so going on eight years," he added. "It's a familiar team, so we know who they are and we get along really well. We look forward to playing them in an actual contest because we match up pretty well with them."
In terms of the team's identity, O'Brien said "athletic" is the first word that comes to mind.
"We're very aggressive and relentless - we have a group of relentless kids right now that really put a great deal of work in that are ready to get after it on game day," he said. "The speed our guys are omitting, I'm really excited to see. We've been going up against ourselves all of February and March now, so I'm excited to see that speed on the field against an opponent."