On a Saturday morning in January, we dropped Brisa off at the kennel and started the three-plus hour drive "up north."
Our son, Mark, and his family moved to Harshaw, Wisconsin in January. It is a very pleasant drive with a four-lane divided highway three-fourths of the way. Minocqua and Woodruff are just a few miles south of where they live. Those two towns have populations of around 800, but they have a huge tourist population which supports the large number of businesses in these two towns.
Saturday evening we went to eat at Bad Bones BBQ in Arbor Vitae. They served a large amount of very good food. After returning to their house, the men watched "Midway." After the bombing at Pearl Harbor, the Japanese attempted to overtake Midway Island. This movie was about the events that led to the unsuccessful takeover. I played Uno with Katy, as neither she nor I were interested in war movies. Her brother Asher had a cold and fever, so he just rested.
Sunday morning Stan and Mark went ice fishing. Mark's house is about five minutes away from Little Bearskin Lake. They came home with eight fish—crappies, pumpkin seeds and bluegills. I have never cleaned fish, but I knew I had to learn, as we'll be making more trips up north all year long to fish. This time I watched Mark filet and clean the fish so I am confident that I can handle this task that no one else really wants to do.
While the men were fishing, Molly, my daughter-in-law, and I visited Roughing it in Style, a cabin and home furnishings store in Harshaw. When you walk in this store, your only reaction will be "wow." It is hard to believe that a store this large with a huge inventory of rustic inspired furniture and unique accessories would be that far north from the cities. Sunday evening, we all watched a comedy, "Smoke Signals," which everyone enjoyed.
I don't need any furniture but found an owl head puzzle with no defined borders (see photo). Stan started to work on this very difficult puzzle, and three days later he completed it. We will make a trip to a large thrift store to find an appropriate frame for this owl, which is 18x21 inches. Among Stan's many talents, he is also good at framing pictures. Within a short time, this owl will be hanging on our wall in the dining room.
Our son's family is now nestled on 3.5 acres bordering the Northern Highland-American Legion State Forest. They have a ranch house with a two-car garage, a shed and playhouse and a lot of trees with room to do anything they want, including gardening.
It's not always where we go, but how we get there.
Always remember, we are all here in this life together.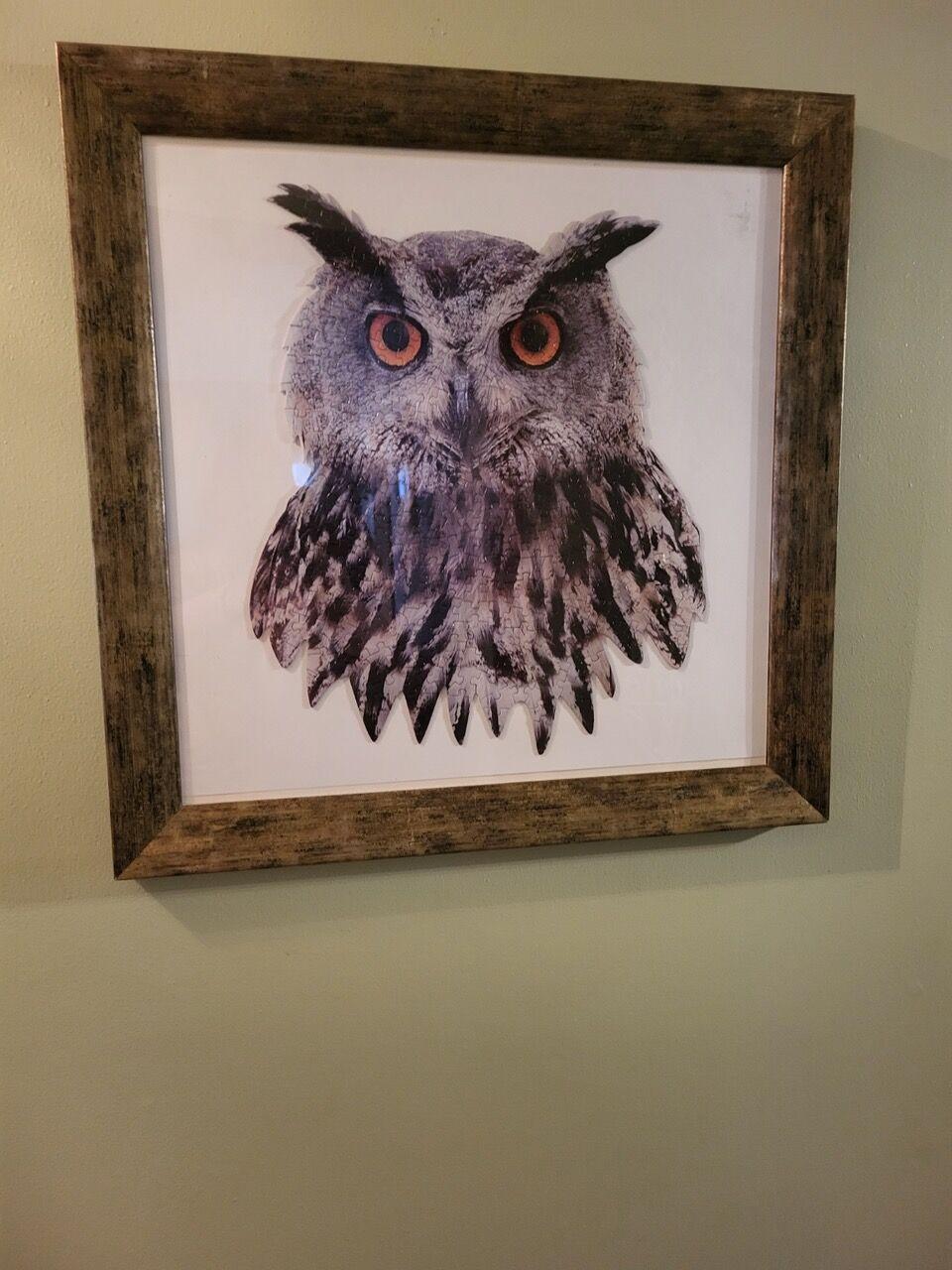 Easy Chicken Pot Pie
Makes 6 servings
1-2/3 cups frozen mixed vegetables, thawed
1 cup cut-up cooked chicken
1 can cream of chicken soup
1 cup Bisquick baking mix
½ cup milk
1 egg
Heat oven to 400 F. Mix vegetables, chicken and soup in a bowl. Pour into ungreased deep-dish pie plate.
Stir remaining ingredients in a small bowl with fork until blended. Pour into pie plate on top of vegetable mixture.
Bake 30 minutes or until golden brown.
Notes: I like to buy a rotisserie chicken about once a month. We always have leftovers, so I cut up chicken pieces (about 1 cup in each bag), label them and put in zip lock bags and freeze. This leftover chicken gives us 2 extra meals. I make chicken noodle or chicken dumpling soup and this pot pie recipe.
Following are some sugar-free recipes:
Oatmeal-Blueberry Muffins
Makes 1 dozen muffins
1 cup plus 2 tablespoons all-purpose flour
6 ounces uncooked regular oatmeal
1 tablespoon baking powder
sugar substitute to equal 2 tablespoons sugar
½ teaspoon salt
1 cup skim milk
1 egg
¼ cup vegetable oil
1 cup fresh blueberries
vegetable cooking spray
1 teaspoon ground cinnamon
Combine flour, oats, baking powder, sugar substitute and salt in a medium bowl. Make a well in center of mixture.
Combine milk, egg and oil. Add to dry ingredients, stirring just until moistened. Gently fold in blueberries.
Spoon batter into muffin pans coated with cooking spray, filling two-thirds full. Sprinkle cinnamon over muffins and bake at 425 F for 20 to 25 minutes or until lightly browned.
Creamed Potato Soup
Makes 9 servings
4 medium-size red potatoes, peeled and cut into eighths
1 small onion, peeled and cut into eighths
4 green onions, coarsely chopped
1 clove garlic, minced
(2) 10-1/2 ounce cans no-salt-added chicken broth, undiluted
1 cup skim milk
½ teaspoon salt
1/8 teaspoon white pepper
1/8 teaspoon nutmeg
Combine potatoes, onion, green onions, garlic and broth in a heavy 3-quart saucepan.
Cover and simmer 20 minutes or until potatoes are tender.
Process potato mixture in batches in container of an electric blender or food processor until smooth.
Combine pureed mixture with milk and remaining ingredients, stirring until well blended.
Reheat soup to serving temperature or cover and refrigerate until thoroughly chilled.
Enjoy the simple pleasures of life and, of course, eat well.
Call or email me with questions or comments. I can be reached at 920-980-3885 or email owl.mcp@gmail.com.
Send your favorite recipes to be included in this column to me at Tri-County News, P.O. Box 237, Kiel, WI 53042. Please include your name and phone number in the event I have questions.