SHEBOYGAN — According to an article in the New York Times, Sheboygan's overall ICU occupancy is currently at 35%. However, the figures are rather lopsided when looking at the two hospitals.
The report, generated by data collected by the Department of Health and Human Services, shows that occupancy is up to 77% at Aurora Sheboygan Memorial Medical Center and just 11% at St. Nicholas Hospital.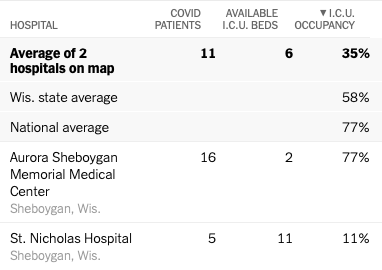 According to the article, 77% of intensive care hospital beds nationwide are full. That average falls slightly to 58% average throughout the state of Wisconsin.
According to the Sheboygan County Department of Health Services, the county is still at a "Very high" activity rate with a burden rate of 562.1—a shrinking trajectory of 27% from Dec. 16 to 29.