SHEBOYGAN — A master plan totaling near $3.8 million in renovations of Jaycee Park took one more step further Tuesday evening.
In a special meeting, the Board of Marina, Parks and Forestry motioned to move the plan forward as a recommendation to the Department of Public Works for adoption.
The department emphasized that this is a working plan that will take many phases to complete over time.
Below are the 13 key steps of improvement the park as explained by the master plan, which can be found in its entirety here.
1. New multi-use park building with plaza space at the southeast end of Quarry Lake
The new building would host an events space that can hold up to 150 people, an indoor concessions area and passive recreation
Cost estimation: 

Building - $1,650,000
Patio space, path and walls - $200,000
Parking lot - $45,000
Landscaping - $20,000
2. Green infrastructure
Implement environment-friendly building solutions to mitigate the park's carbon footprint by focusing on renewable energy, stormwater harvesting for irrigation, greywater use for toilets, stormwater bio-infiltration, green roofs and recycled materials.
Cost estimation: $10,000
3. Expanded waterfront experience
Shifting the existing parking lot further from the lake allows for more waterfront activities and make the waterfront more visible from Calumet Drive.
Cost estimation: $50,000
4. Perched beach
A publicly accessible beach would be a free alternative to the pay-to-access beach associated with the water park. The perched condition would not allow physical access to the lake but would provide views of the lake for park users.
Cost estimation: $30,000
5. Paved multi-use lake loop trail
A 10-foot paved trail would provide a looped experience around the lake for a myriad of activities. A parcourse with intermittent exercise stations at regular intervals would provide an opportunity for a unique outdoor exercise experience. A 42-inch high railing along the eastern edge where the path runs along the beach would ensure segregation between those paying to use the beach and the general public.
Cost estimation: $68,000
6. Selective clearing for framed views of the river, lake and new park structures
Enhancing views by clearing out overgrowth will provide views from Calumet Drive to be more inviting to visitors.
Cost estimation: TBD
7. Entry signage
New signage is recommended at the southern and northeastern park entries.
Cost estimation: $30,000
8. New beach house
A new structure will replace the Jaycee Quarryview Center to facilitate operations associated with the Quarry Beach Adventure Park and Water Sports rentals. It will include ticketing and check-in areas, showers and baby changing areas, concessions, a small game room, a storage area and lifeguard room. 
Cost estimation:

Building - $800,000
Patio space, path and walls - $120,000
Parking lot - $70,000
Landscaping - $15,000
9. New Tiki Hut building
An ancillary structure on the north end of the beach would serve beach and lake rentals (lounge chairs, umbrellas, SUP boards, kayaks, etc.), additional concessions and rentals associated with a new ropes course located within the large open space to the north.
Cost estimation:

Building - $300,000
Patio space, path, walls and terraced seating - $125,000
Landscaping - $15,000
10. Ropes course
An interactive course along the western shore of the lake featuring climbing and balancing obstacles, zip lining and trust exercises would be used by daily park visitors or rented for private events.
Cost estimated: Owner Furnished, Owner Installed (OFOI)
11. New shelter at the northeast corner of the lake
Located off the new multi-use path, this shelter could host both public and private events. The adjacent open space is large enough for additional tents as needed. It would be primarily open air with a fireplace.
Cost estimation: $150,000
12. Council ring at the southeast corner of the lake
Perched upon the bluff, a stone council ring and fire pit offers a more intimate experience for park users to enjoy lake views further removed from the more active recreation areas.
Cost estimation: $25,000
13. Enhanced naturalized landscape around the frisbee golf course
The course would have native grassland habitats surrounding smaller, intermittent zones of manicured lawn evocative similarly to the aesthetic of Whistling Straights.
Cost estimation: $50,000
The plan was devised from several identified areas of opportunity and also several identified challenges, as well as public input sessions. Below is a run-through of the highlighted areas of focus.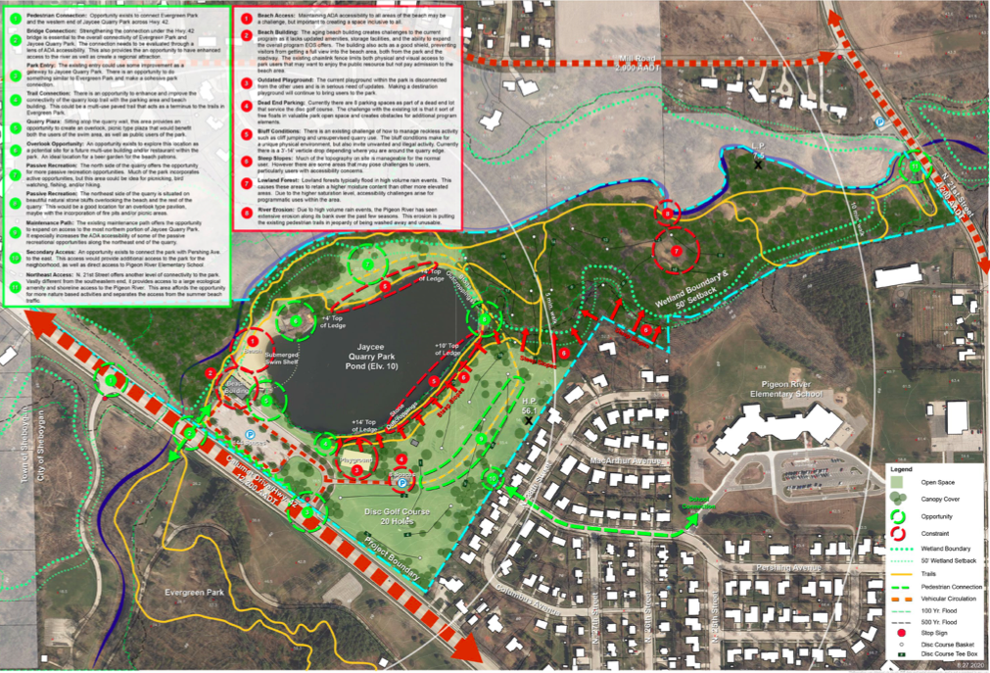 Identified opportunities
---
Pedestrian and bicycle connectivity
An underpass condition below Calumet Drive/Highway 42 along the Pigeon River provides safe passage between Evergreen Park and Jaycee Park for pedestrians and cyclists while a dead-end at Pershing Avenue can provide a secondary entrance for those on foot.
Park entry experience
Selective clearing of existing vegetation would provide for a more overstated entrance and views of the park, making it more appealing. Enhanced entry signage at the southwestern entrance along Calumet Drive/Highway 42 and northeastern entrance along Mill Road would also help with visibility.
Trail enhancements
A wide, paved, multi-use loop trail around Quarry Lake would provide a unique experience within the park and would also provide better access around the park for maintenance vehicles. The underpass of Calumet Drive/Highway 42 provides a safe connection between Jaycee and Evergreen parks, but either side's trail would need to be enhanced to fully capitalize on the synergy between the two parks.
Perched Views
The bluffs created as a result of former mining operations provide opportunities to capitalize on panoramic views of the lake and surrounding park in the form of new park structures, overlooks, picnic areas, council rings and camp sites.
Passive Recreation
With its access to woodlands, wetlands and the Pigeon River, the northeast side of the park offers a variety of recreation activities including picnicking, bird watching, fishing, biking and geo-catching.
Quarry Lake
The lake is a result of excavated limestone associated with former quarry operations. Naturally-filtered groundwater continues to feed the Lake, resulting in consistently fair to good water conditions.
20-hole frisbee golf course
The course is one of two in City of Sheboygan and presents a regional attraction for the park. With 20 holes, there is flexibility to potentially repurpose two of the holes for another desired use.
Identified challenges
---
Beach access
Providing ADA accessibility to all areas of the beach will be a challenge but is important to creating an all-inclusive space.
Outdating structures
The Jaycee Quarryview Center beach house lacks updated amenities and obscures views to the beach.
The existing chain link fence along the northwest side of the parking and connecting to Jaycee Quarryview Center limits physical and visual access to park users that want to access the beach area without paying admission.
The current playground within the park is disconnected and needs updating to improve functionality and safety.
Existing environmental conditions
Dead-end parking in a lot that only services the disc golf course encroaches upon available open space that could be used for additional park programming.
The existing bluff conditions ranging in a vertical drop range between 3 feet and 12 feet poses a risk to park users and can lead to unwanted and illegal activities.
Most of the topography is manageable for the average user, but some steep slopes present significant challenges to less physically-able users.
The pathway below Calumet Drive/Highway 42 presents opportunity, but the slope of the path exceeds ADA requirements.
Lowland forest and wetland areas can have a higher moisture level, so accessibility challenges arise for use within the area.
The Pigeon River has seen extensive erosion along its bank, putting trails in jeopardy of being washed away.
Significant ecology overgrowth obscures views of the lake and other amenities.
Trails
The majority of existing trails are narrow "single-track" dirt paths that are under-maintained and underutilized, especially by less physically-able people. Biking used to be more popular, but has declined due to conflict between cyclists and pedestrians along the narrow trails.