SHEBOYGAN — In Monday's meeting, the Sheboygan Common Council received an update from Visit Sheboygan on the state of the area's tourism.
The Visit Sheboygan tourism center opened in October, nearly six months after it was scheduled to due to COVID-19 setbacks, but the organization itself has been around for 10 years.
The center is funded primarily through the Sheboygan Area Tourism Zone Room Tax, meaning that Visit Sheboygan gets a percentage of all overnight room tax stays.
The room tax funds hit a record high in 2019, but fell nearly $400,000 in 2020 due to COVID-19 restrictions on travel. Because of this and other expense setbacks due to the pandemic, Visit Sheboygan had to ask council to suspend the 2020 repayment of its Blue Harbor bond debt.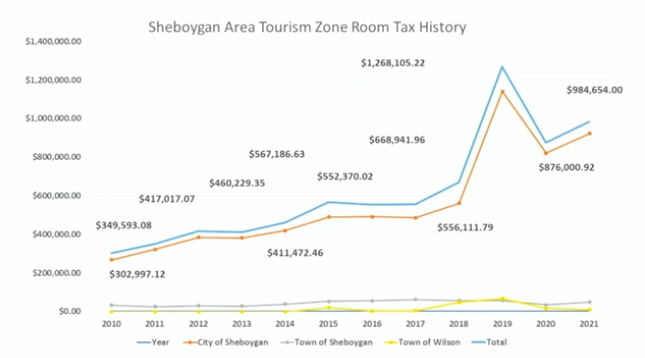 "The Blue Harbor Conference Center is basically where the extra income is coming from. The conference center was built based on an agreement for bond funding. For years, 100% of Blue Harbor's room tax went to pay those off. The bond matured in 2018, but over that period of time, the Blue Harbor tax fell short about $745,000," Wilson explained in Monday's meeting. "The City of Sheboygan made that up for them because the bonds needed to be paid. The city covered it, but when the room tax law changed in 2017, Visit Sheboygan was incorporated due to changes made in the state statute.
"Visit Sheboygan did agree that the city should be made whole again and did agree to a re-payment schedule to pay back what Blue Harbor had fell short on the bond agreement with the city," she continued. "That agreement was originally set on annual payments that started in 2019 and carried through 2025."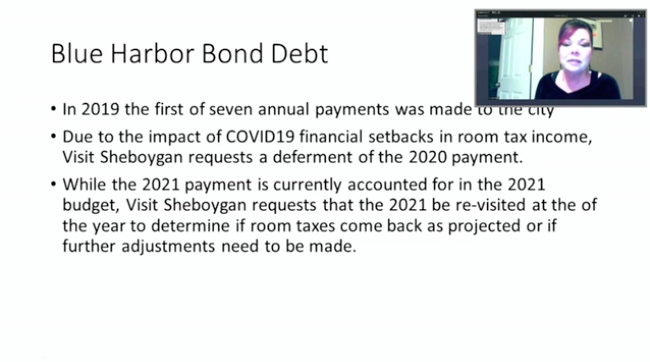 Repayment of Blue Harbor debt service schedule:
2019: $100,000 (paid)
2020: $100,000
2021: $125,000
2022: $125,000
2023: $125,000
2024: $125,000
2025: $125,000
2026: 49,399
"Through COVID we had a real challenge here. We had brand new expenses just as our income unexpectedly started to drop pretty drastically compared to what we were taking on including a new visitors center," Wilson said.
As a result, council approved to suspect Visit Sheboygan's repayment to the city for 2020, and agreed to reassess the 2021 payment come December.
"After a lively discussion, we determined that it certainly makes sense to suspend the 2020 payments and to revisit the 2021 payment towards the end of the year," explained Alderperson Mary Lynne Donohue, chair of the Finance and Personnel Committee. "The payment is in the Visit Sheboygan budget (set for 2021), but depending on recovery of tourism and so forth, it may be possible for us to receive the full payment or partial payment or to suspend the payment for another year. This of course just extends the term of the contract so the the city is finally reimbursed and made whole."