PLYMOUTH — The Kettle Moraine Correctional Institution remains to have the highest recorded active cases of COVID-19 of all correctional facilities in the state of Wisconsin.
The department is currently under a facility-wide investigation by the Sheboygan County Division of Public Health. All cases are included in the county's total confirmed case count, but are not included in the active or recovered case count.
As of 2 p.m. Tuesday, Oct. 6, The Sheboygan County Division of Public Health reported that KMCI has 551 confirmed inmate cases. That number is up from 204 confirmed cases on Sept. 29 when the health department began including KMCI in its daily report.
According to 2019 records, the total inmate population of KMCI is around 1,200. Additionally, 70 staff members are also confirmed cases.
KCMI has the largest number of active cases of all Wisconsin corrections departments, according to the DOC. The Oshkosh Correctional institution reported 370 cases Tuesday while the Green Bay Correctional Institute reported 304. The total number of reported correctional department cases is 2,000.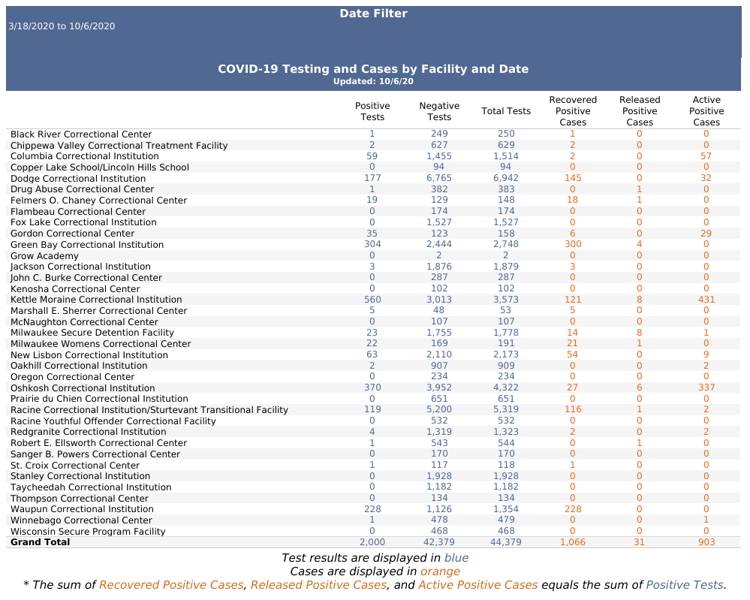 Below are statements from the state Department of Corrections:
What is being done with inmates who have tested positive?
"Generally, at all DOC institutions, the practice is to isolate those who are positive for the virus and quarantine those who are directly or potentially exposed."
When was the outbreak first reported?
"We had some persons in our care exhibiting symptoms and testing positive within the past couple weeks. (We test persons in our care who are symptomatic.) This prompted the DOC emergency operations team to work with the WI National Guard to schedule mass testing, which happened last week. This is normal practice. Whenever there are warning signs of an outbreak at a facility, we work with the National Guard to mass test staff and persons in our care at that site. We are very thankful for the Guard's partnership and their flexibility in such situations. Whenever we do mass testing at an institution, it is the National Guard performing the tests."
What additional cleaning procedures have been put into place with the outbreak?
"All DOC locations have established intensive cleaning protocols with an emphasis on sanitizing high touch surfaces, routine cleaning of critical areas and increased personal hygiene. Additional sanitation and disinfectant protocols have been enhanced at all facilities and offices to include any sites with a confirmed positive case of COVID-19."