SHEBOYGAN — Another affordable housing complex could soon be on its way to Sheboygan at the intersection of S. 14th Street and Illinois Avenue where Citgo Petroleum previously sat.
Last year, Commonwealth Development approached the city with the proposed 48-unit workforce housing development, but there wasn't enough time to get the property properly rezoned through the city's process.
After completing the MSA Professional Services, Inc., affordable housing study this spring, Chad Pelishek, Director of Planning and Development, said the city reached back out to Commonwealth.
"We identified this site and reached back out to Commonwealth to create a Low-Income Housing Tax Credit project, similar to what you see with Badger State Lofts," Pelishek said in the Aug. 10 City Plan Commission meeting. "This will be one of our first projects that we will move forward under the city's new affordable housing market study."
The project is currently climbing the ranks through the City of Sheboygan committees to have land properly rezoned and will need to be awarded the Low-Income Housing Tax Credit. Pelishek said that process could take through the end of 2021, and the project should be able to get underway at the beginning of 2022.
[MORE: Read about the city's affordable housing shortages with our detailed series here]
The proposed preliminary plans detail three-story townhome-style units including 14 one-bedroom units, 14 two-bedroom units and 20 three-bedroom units.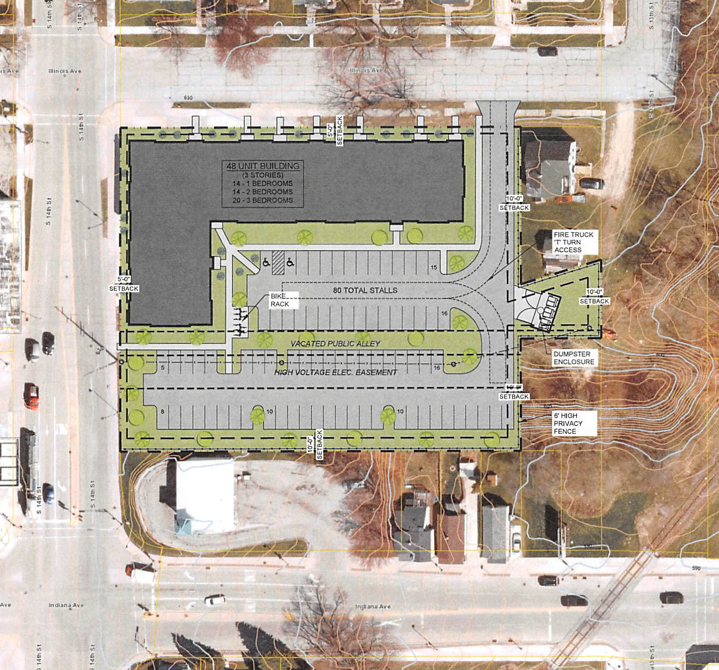 Both city staff and the developers acknowledged this project could hit on the city's priorities when it comes to addressing affordable housing.
"Given this site's location we believe it presents a great opportunity for a new infill development as it is one of the main entrances to the downtown corridor," state's Commonwealth's application to the city. "The proposed development will provide revitalization to an area of the city that has been stagnant the past several years in a manner that compliments the surrounding single-family houses.
"To ensure the proposed development encompasses 'desirable-units' beyond construction style, Commonwealth was able to tailor our development by decreasing the overall density to incorporate 20 three-bedroom units as MSA indicated a significant shortage in three bedroom rental units," the developer application added. "Another priority focus identified in the study is the utilization of infill development, given the City's limited greenspace MSA suggests placing a priority on infill housing proposals across the City's neighborhood enhancement nodes such as the site located on the corner of 14th and Illinois."