SHEBOYGAN — The panoramic views of Lake Michigan. The thriving local business market. The beer.
Sheboygan's real estate and housing market is scorching hot right now. From small single family starter homes to the $1.5 million showstopper homes, anyone trying to buy a home in this city will tell you how competitive the market is.
What kind of real estate content would you like to see?
Each week we have been posting a featured house tour that you all seem to be enjoying. Given the vast real estate market in Sheboygan County, we want to know what you're most interested in.
You voted:
Redfin, one of the several national for-sale listing sites, measures a city's housing market on a scale of 0 to 100. Sheboygan earned at 71, or "Very Competitive" Redfin Compete Score:
Many homes get multiple offers, some with waived contingencies.
Homes sell for about 1% above list price and go pending in around 48 days.
Hot Homes can sell for about 6% above list price and go pending in around 34 days.
Redfin's 2020 housing market data also reflects that the city has seen a 30% increase in average sale price since last year from its listings. Realtor.com's listing data shows an 18.9% increase trend. Zillow, another one of the more popular sites, shows just a 6.5% increase in its "Home Value Index." The discrepancy likely boils down to each site's pool of listings—regardless, all figures show the market is hot.
| | |
| --- | --- |
| Site | 2020 Average Sale Price |
| Realtor.com | $163,900 |
| Redfin | $175,000 |
| Zillow | $141,611 |
| Average | $160,179 |
---
Zillow's Index predicts that trend to continue. Another 5.6% increase in home value is expected through Aug. 2021, bringing the average from $141,611 to $149,000.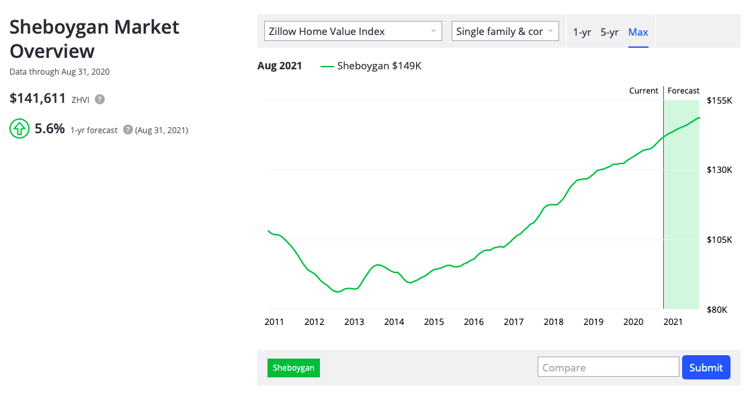 What does this mean for homebuyers?
If you're looking to buy in Sheboygan, you better be ready to act quickly and explore the possibility of going at or above asking price. Redfin reported the average time a property stayed on the market is 48 days, with a 1.2% average above listing price. Realtor.com's Aug. 2020 summary estimated the average as 79 days on market, down from 107 in June 2020.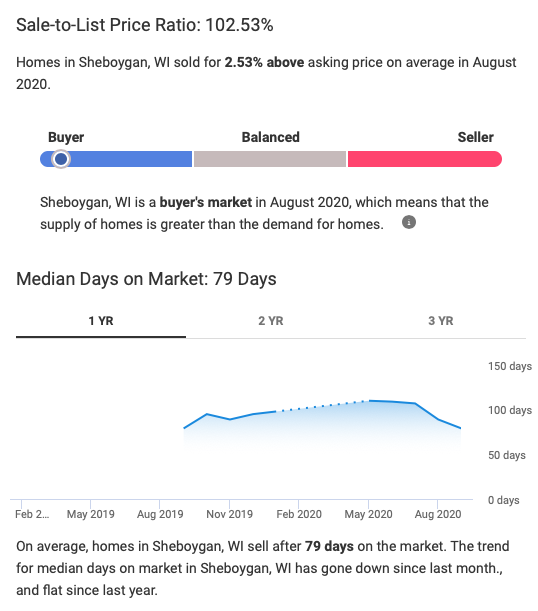 The nice thing is, as Realtor.com's summary reflects, Sheboygan is currently a buyer's market, so there is a plethora of lovely homes to choose from right now in the city.