SHEBOYGAN — "Cast iron can't come in here without them sharing their formula with me," Relish Kitchen Store president Jane Davis-Wood joked.
"It's true—because I need to know where it's made, how it's made, if it's pure and what the contents are because we have people that will come in and shop with us and go, 'What's in that?'" she continued. "And I better know."
In addition to its niche selection of goods and services, it's that kind of top-notch customer service that sets Relish Kitchen Store apart from other retailers.
About the store
After both holding leadership positions in retail, Davis-Wood and her daughter, Sara Woosencraft, opened Relish Nov. 1, 2013. Two years ago, the pair expanded their 811 N. 8th Street location in downtown Sheboygan into a vacant adjacent building to add a chef's kitchen for demos and cooking classes.
The store is filled to the brim with cookware and bakeware, gadgets and utensils, gift sets, gourmet food and other kitchen essentials. 
"I was always in charge of the home areas and enjoyed it. It always is such a steady business, the rise and fall aren't as drastic as ready-to-wear clothing and things like that," Davis-Wood explained. "Even during the worst of the recessions, the home business is always up. When times are good, they want all the best stuff, but when times are bad they still want stuff. It's always a nice, even business."
Because of that, the mother-daughter duo thought it would be a great business to get into—but that wasn't the only reason.
"Jane really likes to entertain and I really like to try new ingredients and try new cuisine and just kind of cook for myself and try to decide if I like the super hot chilis or some weird flavoring or spice," Woosencraft added. "I definitely think that even though the basics of the business are supportive of the kind of business we've decided to open, the passion definitely fuels our interest level and our engagement with customers."
The average first-time trip to the store? Davis-Wood has clocked it in that their average first-time customers will spend a full hour in their store.
"It's amazing to hold a customer's attention for an hour," she said. "We're like knowledge brokers—it's that full service that's all part of making it experiential that you aren't sitting at a computer screen. You can touch, play, and learn. It's like 'Let's go back into the kitchen and play with this gadget.'"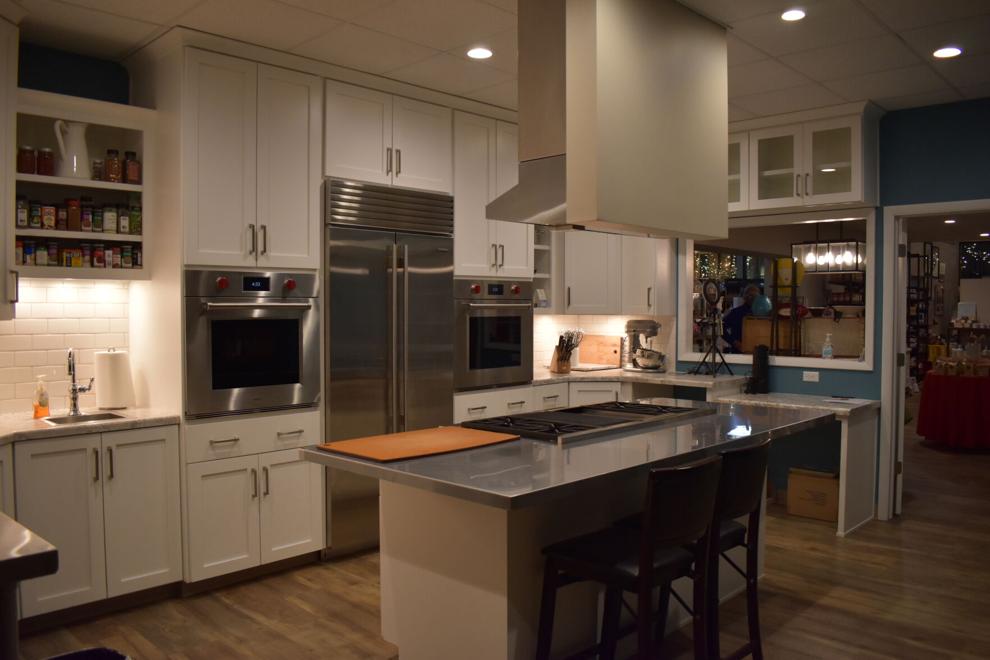 Keeping with the trends
"Where we started in 2013 looks much different than what it looks like today because, much like any business, while the kitchen stuff is exciting and who doesn't like to look for the new gadget, the world changes and so you have to evolve with how much of certain things you carry and how many different brands you have of a certain thing, you have to keep an eye on your competition and big box retailers," Woosencraft explained. "We don't really want to compete with big box retailers, but we like to keep an eye on what they have so that we don't duplicate."
That even carries to the smallest details as colors of certain products.
"It's all about finding the trends and staying on top of the business. Pantones change a lot in our world, the different colors," Davis-Wood echoed. "That means we have to shift our Pantones to those same colors to stay current. All the sudden, an example, who knew where this came from out of the blue a month ago were cocoa bombs."
Sometimes the trends themselves are results from economic trends as well. With this year's coronavirus, it's easy to see how a locally owned niche store would be in danger, but that is not the case with Relish.
"We were doing more gift-a-kitchen, which is where the trends were, but then suddenly the pandemic hit and everyone was making bread and getting back to basics," Davis-Wood said. "So, now we're back to those basics again. You just have to be nimble and bob and weave to get through it all."
"It got to the point where it was a challenge to get product in because it's a trend everywhere. It took us some time to get those bread tools because everybody in the country was about bread," Woosencraft added. "Where we are today versus where we were ten months ago is very different because of what's available for us to bring in ... We've had to kind of switch up what percentage of each category we bring in to make the store look full to make it look fresh, to make it look different than what it looked like time people were able to shop with us because we were closed for a couple of months."
The next trend? Davis-Wood said watch out for breakfast charcuterie to make a boom.