SHEBOYGAN — Whether you're an avid surfer or you're looking to try paddle boarding for the first time, EOS Surf Shop is a Sheboygan staple.
The surf shop not only includes retail space for EOS branded items and other novelty clothing and accessories, but it also is one of Sheboygan's go-to places for all of your Lake Michigan activewear and gear.
But this is of no surprise to the area's avid surfers. What the average lake recreationer will enjoy most is the EOS Surf Shop's no-reservation-required rental dock and their lessons.
Beginning as Revboardshop in 1998, the location also sells skateboards in the lower level while the Sheboygan Surf Haus Airbnb is located above the shop.
Rentals
Have you ever seen someone paddle boarding or kayaking on the lake and immediately wanted to give it a try? EOS has its own seasonal rental dock set up at 640 S. Pier Drive on the Sheboygan River. No reservations are required for the hourly rentals, so supplies are first come first served and also weather permitting.
The dock is open daily from 11 a.m. to 5 p.m. through Labor Day.
Single kayak - $20/hour
Tandem kayak - $30/hour
Standup paddle board - $20/hour 
You can also make multi-day rentals of these items at the EOS Surf Shop to really master your skill. All surfboards, skimboards, wetsuits, boots and gloves can be rented at the shop as well.
The store is open from 11 a.m. to 7 p.m. Monday through Friday, 10 a.m. to 5 p.m. Saturday and 10 a.m. to 3 p.m. Sunday.
Fiberglass surfboard

$35 for rental from store's open to close 
$45 for 24 hours

Foam or skimboard

$30 for rental from store's open to close 
$35 for 24 hours

Wetsuit

$20 for rental from store's open to close 
$30 for 24 hours

Boots and gloves

$10 for rental from store's open to close
$14 for 24 hours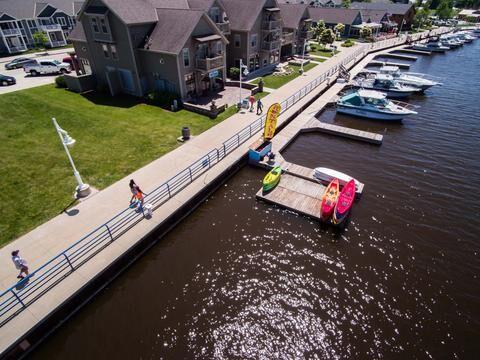 Lessons
Just up and renting a surfboard may sound fun, but for those who haven't quite gotten their surf legs yet, EOS Surf Shop even offers personalized lessons.
Lessons include all gear and a two-hour session with a certified and experienced instructor. To make a reservation, call the shop at 920-208-7873. Know someone who would be interested? EOS also sells gift certificates for its lessons.
Surf lesson - $95/person ($85 each for two-person lesson)
Standup paddle board lesson - $95/person ($85 each for two-person lesson)
Kiteboarding lesson 

$275 for three hours (includes gear)
$500 for six hours (includes gear)
$75/hour for assisted lesson with your own gear