SHEBOYGAN – What better way to usher in a new era of innovation and entrepreneurship than to have Herbert V. Kohler Jr., Richard Bemis and Tryg Jacobson wish you a warm welcome.
The three Sheboygan County icons spoke at the grand opening of Jake's, A Lakeland Community on Wednesday afternoon, and kept the crowd of nearly 200 guests captivated. Jake's, which is located at 529 Ontario Ave., was acquired by Lakeland University earlier this year to expand the school's Cooperative Education Program, develop future business leaders and give Lakeland a presence in downtown Sheboygan.
The property is the former location of Jacobson Advertising, which was started by Tryg Jacobson's parents, Frank "Jake" Jacobson and Betty Jacobson. The agency, which held accounts for some of the biggest companies in the Midwest, including Kohler Co, Bemis and Sargento, eventually became Jacobson Rost after Tryg took over.
After selling his interest in the agency in 2010, Tryg turned the property into a community for freelancers and entrepreneurs to breathe life into their projects, thus Jake's Café was born. "Jake's was designed as a creative community, and what I thought would be a fertile ground for startups, and it was. It was a wonderful place," said Tryg Jacobson.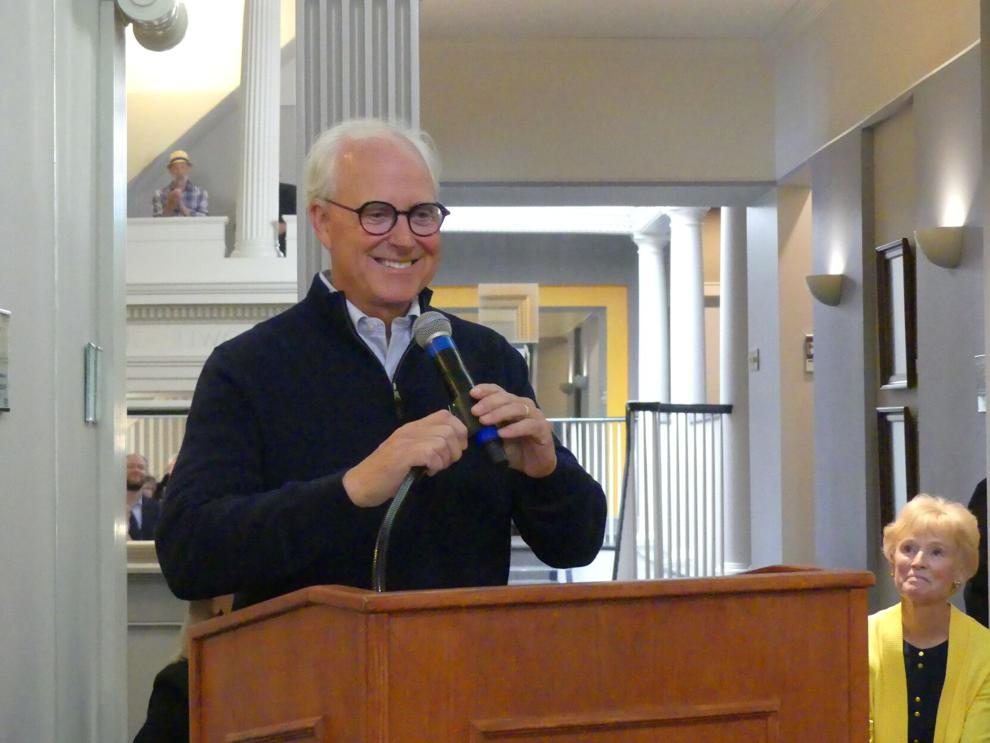 Lakeland plans on continuing this tradition started by Tryg and inspired by his parents Jake and Betty. In addition to its Cooperative Education Program and Launch: Lakeland Student-Run Businesses, in which students develop and run all aspects of a business, Lakeland has partnered with the Sheboygan County Economic Development Corporation to form the Sheboygan County Innovation Council.
The Council will provide a centralized approach to growing and supporting innovation and entrepreneurship in the county. The SCEDC and Lakeland are also teaming up to implement the SEED Accelerator grant program, which will award $10,000 grants for up to six startups. The grants will be funded by money the SCEDC received from the Wisconsin Economic Development Corporation.
In all, Jake's will be an invaluable resource for Lakeland students, according to Lakeland President Beth Borgen. "Hands-on learning from industry experts and mentors aligned with the knowledge gained in the classroom from our talented faculty creates a rich learning environment, providing our students with transferable skills that will benefit careers that have not yet been imagined."
Not only will Jake's benefit Lakeland students, it will continue to be a place for freelancers, startups and entrepreneurs from the community to pursue their dreams. "This network of existing business owners and other entrepreneurs who choose to incubate their ideas in businesses through Jake's will create an invaluable resource for future leaders and contribute to the advancement of our community," said Borgen.
Jake's will be run by Kohler-native and co-founder of cloud-based software company Debtle, Stephanie Hoskins, who was named the inaugural Herbert Kohler-Frank Jacobson Chair for Business & Entrepreneurship at Lakeland. The Executive Chairman of Kohler Co. himself was there to welcome Hoskins to her new role, and to give an enthusiastic endorsement of Jake's.
"It's a pleasure to join in the unveiling of Jake's, a Lakeland Community. This next level cooperative of entrepreneurial-minded individuals, educators and business leaders will encourage new collaborations and innovation, and help elevate our community in the process," said Kohler.
To learn more about Jake's, a Lakeland Community, visit https://jakescafe.com/.
Jake's, A Lakeland Community - grand opening
Jake's, A Lakeland Community - a tour