SHEBOYGAN — When Matthew and Melanie Rieley decided to open their own brick and mortar toy store in downtown Sheboygan, they got many puzzled looks. 
Fast forward to nearly it's 10th anniversary, and Freaktoyz has been featured on the likes of "USA Today", "Yahoo News," "CNN News" and much more.
"Our first landlord—he was a very, very nice gentleman, and he never said a word about it, but you could see that look in his eyes where it was like, 'Really? Out of everything you can think of, that's your choice?'" Matthew laughed as he recalled. "It was funny because he came in here a little less than six months ago and he was just amazed. It was fun watching him as he was just walking up and down amazed, it was great."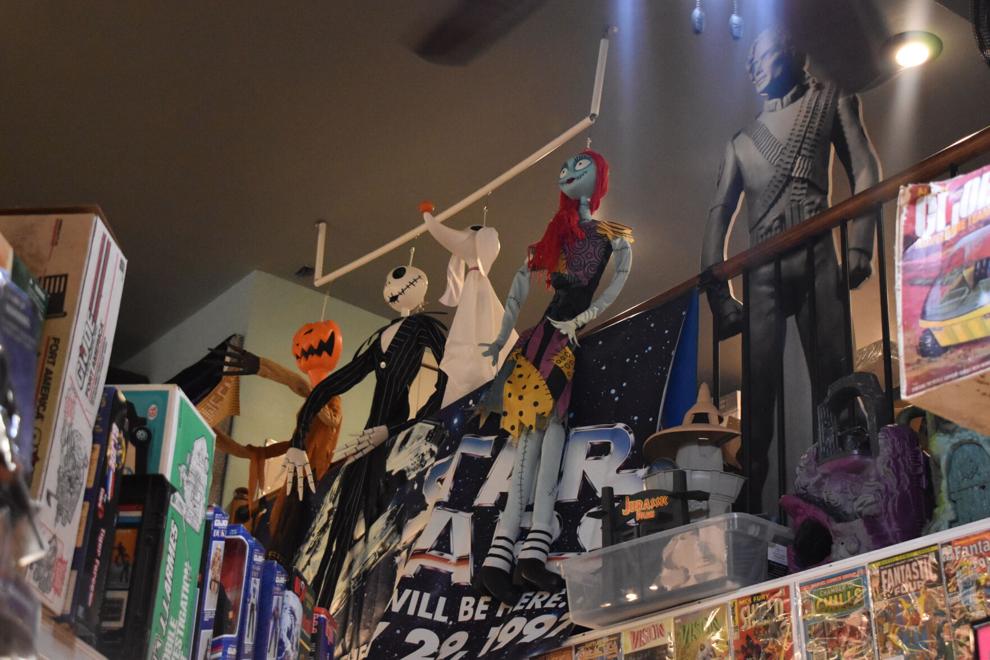 How does one end up in the toy collecting and selling world of business?
Like every other collector, it all began with a basic love of something.
"Melanie and I got married in early '94, and I wasn't fully aware of her wrestling obsession before that. Looking back on it, there were definitely the signs," Matthew joked.
From a young age, Melanie began collecting wrestling figures and other memorabilia. In fact, her grandfather would take her every Sunday to the store to go pick up a new wrestling figure.
Over the years, the collections were sold, but the desire to begin collecting again—and the push of a mutual friend—is where the true passion began.
"We had a mutual friend who was selling at toy shows and flea markets, and he was always saying 'You've got to come with us, you can pick up some great wrestling stuff real cheap,'" Matthew said. "At the shows we were going to at the time, there were a lot of people selling box lots. So, you may want Hogan and Piper, but there's 20 wrestlers in the box and the seller says you've got to buy the whole lot. Melanie's collection grew and, by default, we had more inventory. We sold off everything she didn't need for her own collection, and it just escalated from there."
In February of 2011, the pair opened their initial store just down the block from the current location at 520 N. 8th Street. The space was just over 1,000 square feet and the Rieleys, looking back, laugh at how empty the store was compared to now. Having outgrown the location, Freaktoyz moved to its current location in September of 2017 that is over 4,000 square feet.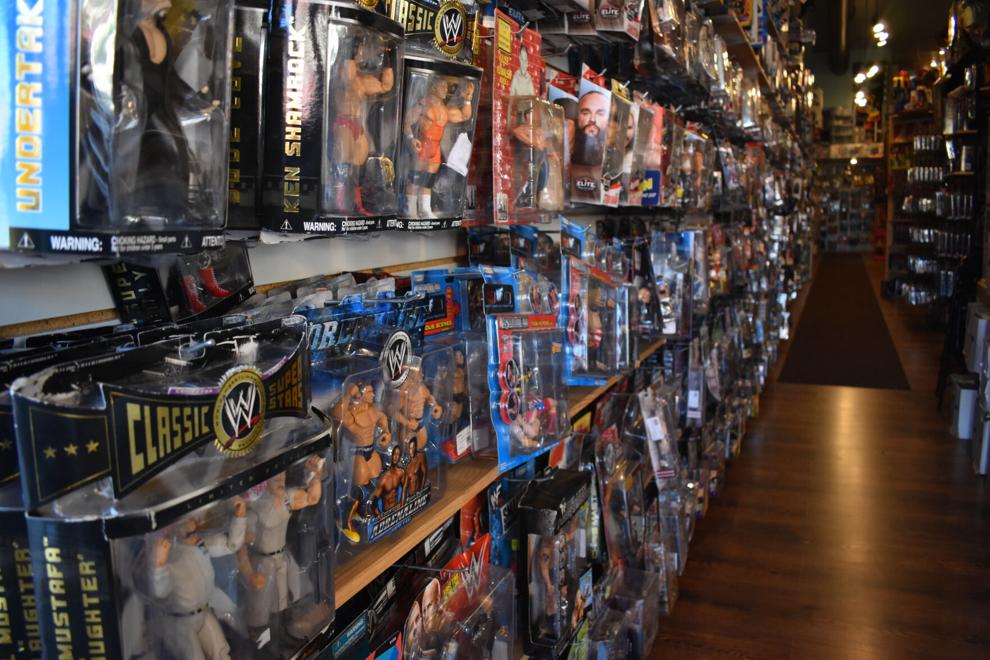 How did the Rieley's get enough toys to fill that space?
About 95% of the inventory at Freaktoyz is made up of items brought in and sold by the store's very customers. Matthew said he's seen buyers and sellers alike from Iowa, Minnesota, Michigan, Illinois and many more.
"We have customers that come in and buy from us that, their whole trip to come to Sheboygan centers around us and they plan around that," he added. "There's nobody that sells like we do, we're a very unique business. We have become one of the top two or three in the country as far as size for brick and mortars anymore. We have more inventory than anybody else."
Their inventory includes the likes of action figures, comic books, Funko Pops, old video games and consoles, DVDs and items you just won't be able to find anywhere else.
Matthew's favorite piece that just had to be added to his personal collection?
"I've got a really cool Shakespeare bust from the Batman tv show that you can plug anything into it. Then you pull the head back, and the switch turns whatever you have plugged into it on and off," he said. "You don't see that one a lot."
Though it varies greatly with trends, the most popular items continue to be LEGO, "Star Wars," "Transformers," "Teenage Mutant Ninja Turtles" and, of course, Marvel.
"Our Pop figures have been incredibly hot too," Matthew explained. "To be honest, I didn't get them at first. I wasn't going to carry them but they all kept telling me we've got to carry Pops because they all collected them whereas I didn't. So we started carrying them, I told them to prove me wrong and, well, as you can see now, we've got a lot of Pops."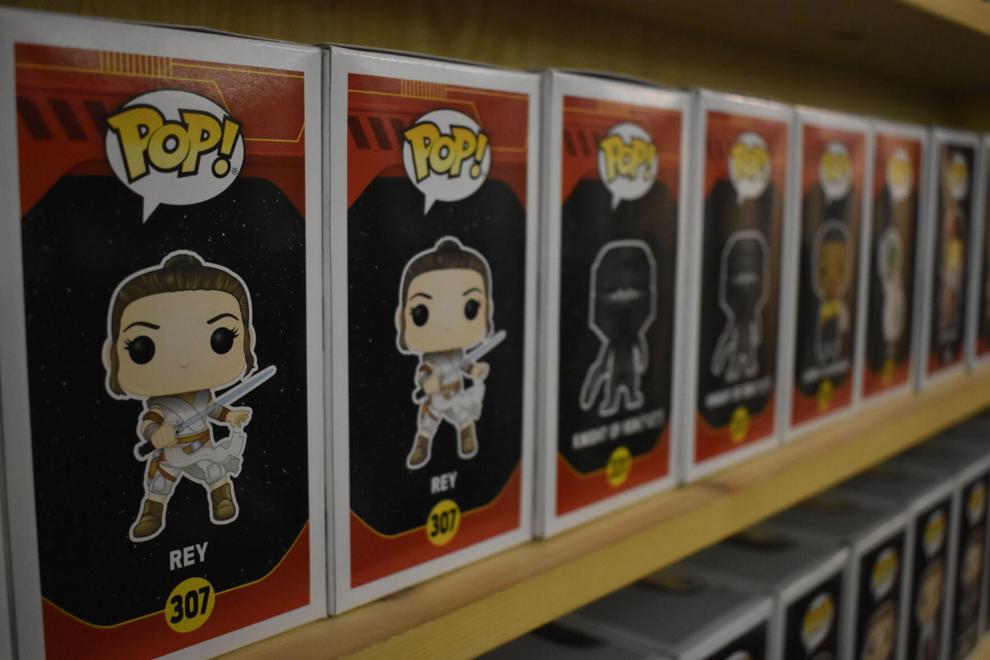 Much like how other retailers may have "seasons" (think boutiques selling sweaters versus flip flops), Freaktoyz does as well—it just may be based more around what popular tv show just dropped.
"Anytime something in this genre comes to the forefront of peoples' minds, wether it's a new tv show or a movie, it really sparks interest in that whole genre to begin with," Matthew said. "You see a real narrow focus every time a 'Deadpool' movie comes out, for example. Everybody wants to go out and get their Deadpool figures."
Additionally, just because a toy is old does not mean it's worth more.
"When people come in and have this figure from the '90s saying they paid $50 for it, I feel genuinely bad because now it may be worth maybe $10," he said. "We'll see these little spikes as things come and go, and then also we'll see a really big spike if somebody has passed away."
However, to the right person, some of the items in their store are absolutely priceless, and that's why the Rieley's started it all to begin with.
"We always say 'Revisit your youth at Freaktoyz' because this is hopefully stuff that brings back good memories for people," Matthew beamed. "That's the thing we've always loved about this place is you'll see somebody, maybe an 80-year-old guy, and they'll be walking around holding something. We'll ask if we can put that up at the counter for them while they look, and they'll say 'Oh no, I've been wanting this for 20 years, I've been looking for this. I am not putting it down.'
"The looks on people's faces—that does it all for me right there. It's all worth it right there," Matthew beamed.