SHEBOYGAN — Harry's Pizza Market opened its doors July 6 and recently rolled out its new signature cocktail, The Aftermarket.
Owners Avni "Al" and Laurie Latifi sat down with us to give us the lowdown on what the process is behind crafting a signature drink.
What key flavors or ingredients are incorporated?
Sour mix of bourbon, lemon juice and simple syrup toped with a nice, dry red wine float
Describe the flavor:
"It does have that bourbon taste and aroma, but also Oak," Al explained. "We use wine aged in oak, so they compliment each other perfectly."
What makes the drink visually appealing?
"We've done what is called the red wine float," Laurie explained.
When the drink comes to your table, the wine settles on top of the bourbon mixture. Mixed together, the drink inherits that deep red wine color.
Inspiration behind the drink?
"Al called one day and he said, 'I need you to come up with a signature drink,'" Laurie laughed as she recalled. "I have no background (in crafting cocktails), I can't claim that at all. I'm just interested and started researching. This was during quarantine, so I had my office for the diner at home. I used all of our ingredients from down at Harry's Prohibition Bistro and just played around."
Laurie admitted to never having been a bourbon drinker before, but recognized the growing trend of bourbon cocktails. Yet, she still wanted to add their own unique spin.
With a selection of more than 100 wines, several imported from Al's home country of Macedonia, the idea clicked when she saw the red wine float trend.
"This one took about five different tries just to get the ratios right," she said. "We got together with friends one night here while we were under construction to try some drinks out, and across the board, everybody loved this one."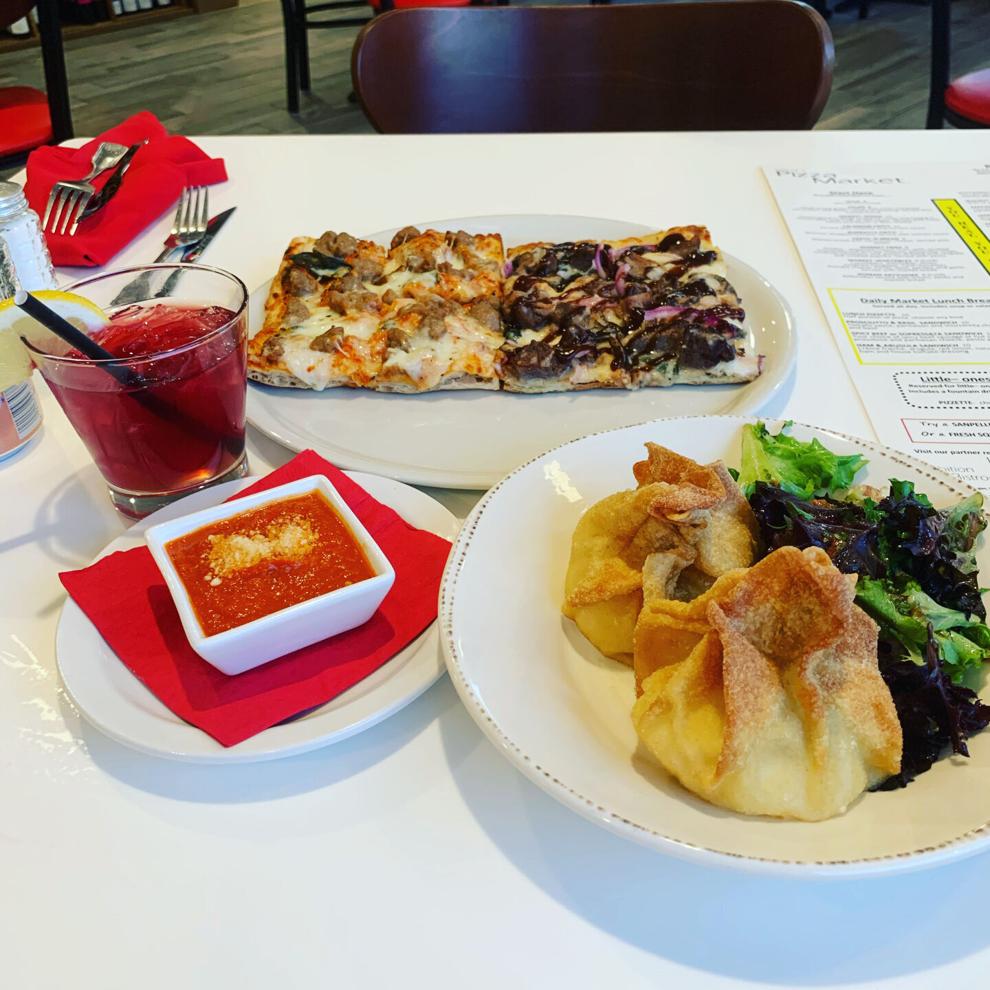 What other flavors would this pair with?
"Bourbons go really well with meat, with a good stew or roasted meat," Laurie said. "It goes really well with our Marsala Beef pizza and then our wings too. We also have what we call Market Fries—anything within that comfort food, good meaty type."
Where can customers find this beverage?
The Aftermarket is special to the Harry's Pizza Market menu, but there are several other drinks that are offered at the family's other two locations, Harry's Prohibition Bistro and Harry's Diner.
Keep your eyes peeled for a feature story on Harry's Pizza Market and the other Harry's locations next week!